VOICE OF CONSERVATION

You may contact Conservation Chairperson Guy Jacob at:



(Note: e-mail addresses on this site are unclickable to cut down on spam.)
---
Plum Island: You've Come a Long Way Baby
By Guy Jacob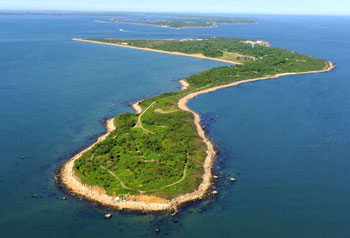 Plum Island's history is an intriguing mix of fact and fiction, as well as a bit of genuine mystery. And in the last two decades, its fate has been in peril. NHOC is one 118 Connecticut,New York, and national groups dedicated to the preservation of this national treasure through our membership in the Preserve Plum Island Coalition.
Plum Island is an 840-acre isle between Orient Point and Fishers Island. Part of the island has long been the home of a federal research facility, which is being relocated to Kansas; the rest has remained a sanctuary for wildlife and native plants. When federal and state governments identified 33 stewardship sites around Long Island Sound, they called Plum Island and the surrounding Gull Islands an "exemplary" habitat area deserving of special protection. Plum Island is largely pristine, a rarity in the New York Metropolitan area; about three-quarters of the island has been intact since Fort Terry was deactivated in 1949 after World War II.
Plum Island's biodiversity includes more than 250 species of birds (60+ endangered or threatened), and about 1000 seals. The coalition's advocacy in rescuing the island's biodiversity has also protected Long Island Sound water quality as well as the island's value as a carbon sink.
In 2008 Congress ordered the sale of this environmentally sensitive landin Southold Town, about 1½ miles off Orient Point, to the highest bidder. A dozen years and much effort later, a provision in a 2020 bill took it off the auction block, and it will now be offered to other federal agencies. If none are interested, it would then be offered to the state, then local municipalities.
A 2020 Plum Island Coalition report recommended conserving this unique landmass as a sanctuary for wildlife, as well as preservation of the Army fort, with guided tours added, an educational facility on the island's east side and a research facility on the west side.
The coalition now seeksto convince Governor Hochul to ask President Biden to dedicate the island as a National Monument.The Town of Southold supports the proposal as does the Long Island Regional Planning Board.
Conservation of natural resources often takes time and patience. Plum Island's advocates have demonstrated much of both.

ACTION ALERT: Email Governor Hochul
Tell her to seal the island's preservation deal by advocating for a new National Monument.
For more information, visit: https://www.preserveplumisland.org/
Click here to download the full report, prepared by scientists from the New York Natural Heritage Program and InnerSpace Scientific Diving, with support from Save the Sound.
You may also find the following media coverage of the scientific dive of interest:
more to come soon, including Newsday and the East Hampton Star
Follow the work of the Preserve Plum Island Coalition, made up of 120 member organizations, here.
View, re-view, share: The Plum Island dive webinar video is ready!
Save the Sound and its generous donors sponsored scientific dives in 2019 and 2021 to learn more about the underwater ecosystem surrounding this endangered island off the tip of Long Island. What the divers found was stunning - "a surprising diversity of life, existing mostly undisturbed beneath the surface," says Matthew Schlesinger, Chief Zoologist at the New York Natural Heritage Program.
Check out the recording of our March 31 webinar to see for yourself this hidden world of underwater biodiversity and learn what scientists found when they dove beneath the surface.
The presentation includes:
Photos and video of the underwater environment surrounding Plum Island
Highlights of the report on the dive investigations from Matthew Schlesinger, Chief Zoologist at the New York Natural Heritage Program, and marine zoologist Meaghan McCormack
First-hand account of scientific discoveries from the dives and an explanation of the report methodology from scientific diver Steven Resler of InnerSpace Scientific Diving
The Preserve Plum Island Coalition is working to permanently conserve federally-owned Plum Island and its natural, historic, and cultural resources. NHOC is a member organization of the PPIC. To learn more, visit the PPIC website at www.preserveplumisland.org.
---
Coffee Lovers Rejoice
By Guy Jacob
Drink lots of coffee and save the environment. The more you drink it, the better off the planet will be. If you're waiting for the caveat, here it is: not just any coffee will do. In fact, most coffee production is harmful because intact forests are stripped away to create large coffee plantations. Numerous species of birds and other wildlife lose their habitat, and the forest is no longer there to sequester carbon dioxide. More than half of 42 migratory songbird species found wintering on sun-grown coffee farms have seriously declining populations. Many of these large plantations profit from Americans' love affair with cheap coffee. Think about all the major brands you see in the supermarkets.
Instead, purchase shade-grown coffee, which is how coffee is naturally grown as an understory plant. The forest remains intact and wildlife thrives. It will cost you more—about $11.00 a pound. Cheap food is often much less healthy for your family and our natural world, and coffee is no exception. Saving money today by purchasing cheap food only delays the costs and the suffering that comes with it later on. Be a conscientious consumer today, and make a difference for yourself and the environment.
But beware. Not all organic coffee is shade grown, and not all coffee that is labeled as shade grown truly is. Look for the "Bird Friendly" seal of approval on the coffee package label. These companies are well vetted by the Smithsonian Migratory Bird Center, an agency dedicated to understanding, conserving and championing the grand phenomenon of bird migration. This certification ensures that tropical agroforests are preserved when coffee is grown. If you peruse the resources below, you will find that there are a number of online companies from whom you can purchase a variety of bird-friendly coffee.
Online Resources
https://nationalzoo.si.edu/scbi/migratorybirds/coffee
https://nationalzoo.si.edu/scbi/migratorybirds/coffee/online.cfm
Subsequent to your purchase, the next time you enjoy the robust flavor of high quality coffee, you'll not only know that you're drinking healthy antioxidants, you'll know you're doing your part to make our world a better place. Happy drinking!
---
New Regional Ocean Action Plan is First of its Kind
By Guy Jacob
Our region's ocean is an economic powerhouse, contributing more than $48 billion to the region's GDP and nearly 700,000 jobs. But our coasts and ocean face growing challenges: pollution, loss of habitat and competing industrial uses. Our offshore waters serve as migratory corridors and habitats for diverse ocean life, including endangered North Atlantic right whales, sea turtles and a variety of fish species.
In order to meet this challenge, the Mid-Atlantic Regional Ocean Action Plan promises to advance our understanding of our coastal and marine ecosystems from New York to Virginia. This new, collaborative effort between the Federal government, states and cities exemplifies government working at its best at all levels.
That this plan is the first of its kind in our region is compelling. While this fact limits scientists' abilities to learn from past resources, it speaks to the critical importance of their labor. As climate change shifts ocean species and habitats and threatens the health of marine ecosystems, as emerging marine commerce and navigation increase traffic in our waterways, the time is now to gather baseline data and utilize the power of informed judgements to plan conservation strategies.
Subsequent to reviewing public comments during the revision of their Draft Plan, the Mid-Atlantic Regional Planning Body (RPB) will submit a final Plan to the National Ocean Council for its concurrence this fall. While the RPB is off to a good start, they have their work cut out for them. Transparency is critical and timely. While Presidential Executive Order 13547 guides their planning today, a new administration in January 2017 could certainly spur shifting priorities. If the public is not well informed about their work under the current administration, it will be difficult for citizens to hold a future administration accountable.
At the Central Park Zoo on August 31, the Wildlife Conservation Society hosted a panel discussion entitled Navigating New York's Busy Ocean: Whales, Ships, and the New Era of Ocean Planning. We learned about the general work of the RPB as well as the ongoing efforts of the NYSDEC, NAMEPA and the WCS to gather information about the New York Bight. These kinds of meetings should be held throughout the Mid-Atlantic Region as they can also encourage public input and understanding of your efforts.
The Draft Plan's proposed Sand Management actions (Section 6) emphasized that dredging sediment offshore for beach nourishment projects could impact benthic habitats. While it discussed various strategies for minimizing this impact, there was no mention about the value of strategic public purchases of private coastal properties. Nor was there any mention of encouraging the strategic retreat inland, i.e., relocating buildings inland.
Dredging offshore sediment and placing the material within degraded systems is often the preferred long-term strategy identified by many Mid-Atlantic coastal communities to reduce storm damage to coastal infrastructure because of the influence of wealthy coastal homeowners who rely on a publicly-funded insurance program to repeatedly rebuild their private homes that will inevitably meet the ocean's fury once again on some distant date. Subsidized National Flood Insurance from FEMA means taxpayers are footing part of the bill for people who choose to live in flood zones. Homeowners associations exert political pressure, and the same illogical thinking cements the status quo.
Beaches are dynamic systems, and it makes sense in certain high-risk areas to encourage public purchases of private land in lieu of rebuilding homes that are destined to be pummeled again in some future storm. In the spirit of collaboration this action plan promotes, these public purchases could be paid for by coordinating funding so that various levels of government as well as private entities contribute together toward the purchase of such coastal properties.
FEMA is more than $24 billion in debt. Some of this debt and the negative environmental consequences that dredging engenders can be averted. Common sense measures that draw from the ideas of the Federal Upton-Jones program instituted in the 1990s are sorely needed. Despite political pressure to the contrary, sounding the alarm bell about counterproductive public policy is a moral obligation. Adding "Public Purchase/ Strategic Retreat" to the Draft Plan's six actions listed under Sand Management would be a prudent move.
Hot spots are zones that are both rich in endemic species and environmentally threatened. Similar to hot spots, the final plan must seek to identify areas of high biologically diversity that are critical to preserve. These ecologically important areas, or hot spots if you will, serve as springboards for the long-term health of any marine region. The final plan must also specify a specific set of criteria that will be used to determine whether or not the plan is achieving its objectives. Such criteria will also serve as a basis for future communication with the public.
The more goal-oriented the final plan is, the more meaningful it will be. The more the public knows about the value of the Mid-Atlantic Regional Ocean Action Plan, the more likely plan priorities and recommendations will be implemented.
For more information...
National Oceanic and Atmospheric Administration. Quick Report Tool for Socioeconomic Data, available at https://coast.noaa.gov/quickreport/#/index.html.

The Draft Plan and Executive Summary: www.boem.gov/Ocean-Action-Plan
---
Long Island Nitrogen Action Plan
By Guy Jacob
The final State budget included $5 million for the Department of Environmental Conservation and the Long Island Regional Planning Council to jointly create a nitrogen management and mitigation plan.
It is important that the Department of Environmental Conservation hears from you about the critical work that this plan needs to include. Please send a message and ask the DEC to make sure that the Long Island Nitrogen Action Plan does the following:
Establishes science-based nitrogen reduction targets based on sub-watersheds across Long Island so we know how much nitrogen is too much for the health of our bays and harbors.
Identifies a comprehensive path forward for the implementation of those targets that utilizes both built and natural restoration solutions so we can begin to stop the pollution.
Encourages Nassau County, New York State and the Federal Government to work collaboratively to identify a path forward for an ocean outfall with denitrification at the Bay Park Sewage Treatment Plant.
Identifies funding for the implementation of the nitrogen reduction targets to restore Long Island waters.
Scientific research conclusively shows that water quality on Long Island is declining precipitously. We need action now to stop the problem in its tracks.
The biggest threat to Long Island's water quality is nitrogen pollution from sewage. From 1987 to 2005, the Magothy aquifer, which supplies most of Long Island's drinking water, experienced a 200% increase in nitrogen pollution. In some parts of Long Island, nitrate concentrations exceed the EPA's maximum safe contaminant level for drinking water, requiring water utilities to close affected wells and/or blend in cleaner water from different areas.
The dominant local source of nitrogen pollution is human wastewater from septic systems and cesspools. In Suffolk County, 70% of homes (90% in Eastern Suffolk) are not hooked up to sewers and rely instead on individual septic tanks or cesspools, which were designed to remove pathogens, not nitrogen.
ACTION ALERT: Send an email to the NYS DEC:
Mark Klotz, Director, NYS Department of Environmental Conservation, Division of Water
DOWinformation@dec.ny.gov
---
New York State Releases Draft Ocean Action Plan
By Guy Jacob
Our ocean is part of our culture, economy and way of life. According to NOAA, ocean sector industries like fishing and tourism contributed more than $21.7 billion to New York's gross domestic product (GDP) and supported nearly 300,000 jobs in 2010. The largest sector of our ocean economy is tourism and recreation, which contributed more than $16.5 billion to the state GDP and supported nearly 254,000 jobs in 2010.
Despite its immense value, our ocean faces new threats such as acidification and algae blooms, which endanger the health of the ecosystem. In an effort to create a more comprehensive and integrated approach to ocean management, the New York State Department of Environmental Conservation (DEC) and the New York State Department of State (DOS) have released the draft New York Ocean Action Plan. This comprehensive 10-year plan is intended to protect and restore the state's ocean resources and address urgent issues facing our ocean and coastal communities.
Highlights of the plan:
Develop a comprehensive whale monitoring program to determine what species of whales are living off of our coasts, and take actions to keep them safe.
Research and recommend solutions for emerging contaminants such as pharmaceuticals and pesticides.
Reduce bycatch, the unintended catch (e.g., turtles, Atlantic sturgeon, and other important species) resulting from commercial fishing operations.
New York State's draft Ocean Action Plan offers us an opportunity to better protect New York's vast ocean resources for the marine life and people that depend on it.

You can see Long Island's amazing coastal marine life for yourself. CRESLI offers regularly scheduled trips aboard their 140-foot vessel. Dr. Kopelman is the President of Coastal Research and Education Society of Long Island, Inc. (CRESLI). CRESLI's mission is to promote and foster understanding and stewardship of coastal ecosystems through research and education. Please visit their website at: www.cresli.org.
---
Properly Dispose of Household Hazardous Waste
By Guy Jacob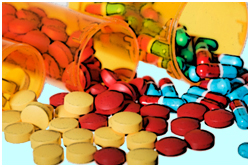 Hazardous waste isn't only generated on industrial sites and in hospitals. It comes from our homes. The average person accumulates six pounds of hazardous waste each year. Toxic and hazardous waste can include batteries, electronic waste, aerosol containers, paint thinners, lawn care products, household cleaners, drugs and motor oil. These products can contain volatile organic compounds (VOCs), heavy metals and pesticides, which have already been found in drinking water sources throughout Long Island.
Improperly disposing of household chemicals by throwing them in the garbage can, dumping them outside, tossing them down a storm drain or flushing them down a toilet puts our water, environment and health at risk.
About 1/3 of all prescription drugs go unused, and too many of them get disposed of improperly. In 2002, the US Geological Survey tested 70 Long Island wells. 28 of them had trace amounts of pharmaceutical drugs, the most common of which were antibiotics and anticonvulsants. Some people, against the advice of their doctors, discard antibiotics after a couple of days if they start to feel better. This could provoke relapses of bacterial infections. Take acidophilus with antibiotics to minimize the risk of upset stomachs, and always finish medication unless your physician directs you otherwise; be sure to call and ask your doctor if you're in doubt about finishing prescription antibiotics or any other medication. If you must discard prescription drugs, or over the counter drugs, never flush them down a drain, and never toss them in the garbage can. First, cross your name off the label to insure your privacy. Then, find a location where you can drop them off for safe disposal. Many police precincts will take unused medications. King Kullen pharmacies will also now take unwanted prescription drugs at any one of their eleven pharmacy locations.
The storm drains on our street corners drain directly into our bays, rivers, lakes and ponds. They are not connected to the sewer system. Any waste that enters a storm drain will go unfiltered, with its full pollution impact, into the very bodies of water in which we fish and swim. These toxins have serious adverse consequences on human life, our pets and wildlife.
Full or partially full aerosol cans, paints, cleaners, pesticides or solvents should never be placed at your curb for disposal. By doing so, you're endangering the welfare of sanitation workers, risking explosions and adding toxic waste to our air when these products are burned in an incinerator.
Fortunately, there are simple ways to prevent toxic household chemicals from entering the environment. Most hazardous household products now have safer, non-toxic alternatives. Choose to buy these safer alternatives when available. For the household hazardous waste you currently have, every town on Long Island holds regular STOP (Stop Throwing Out Pollutants) days, when residents can drop off their household waste for safe disposal. Contact your town for more information.
Too many environmental problems seem beyond our reach to control. To the contrary, what we do with household waste is about personal responsibility that can make a significant difference.
---
Beware of Insecticides
By Guy Jacob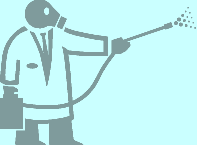 Is it safe to use insecticide sprays indoors?
According to Consumer Reports, it's dangerous. Consumer Reports has a team of top-notch professionals that review the latest research. Most importantly, Consumer Reports is non-biased because they don't have profits on their mind.
Insecticides don't only poison pests - they can be toxic to humans, pets, plants and wildlife as well. Health problems can develop if insecticides are inhaled or absorbed through the skin. Symptoms include headaches, vomiting, muscle twitches, dizziness and irritation of the eyes, nose or throat. Inhaling chemicals called pyrethrins, found in many pesticides, can cause breathing problems.
Pyrethrins are neurotoxins that attack the nervous systems of all insects. Safer alternatives include gel baits, bait stations and sticky tapes - all sold at hardware stores. Moreover, exercise prevention. Seal up cracks, vacuum often, and don't leave out unwrapped food.
Of course, inhalation and skin absorption of toxins can happen just as readily outdoors as indoors. I recently saw a man spraying ant hills around his sidewalk. What didn't hit the ant hills was sprayed all over his sandals and legs. Once he left the scene and stomped the poison all over the floors of house. Neighborhood children, pets and wildlife certainly picked up the residue as well. When it rained later that evening, the poison seeped into our groundwater and down our storm drains straight out to our bays.
Insects are an important part of our natural world; without them, the entire food web would be negatively affected beyond repair. Ant hills on your curb and bees on your shrubs are beneficial. An occasional bug will show up on anyone's home. If you have a true infestation, then you must weigh the benefits of spraying against the risks. Otherwise, please save your money, save your health and the health of your loved ones, and leave the environment unspoiled.
---
"Two Worst Toxic Offenders on Long Island"
By Guy Jacob
Long Islanders depend on groundwater as our sole source of drinking water. We must protect this aquifer to ensure protection of our health and our environment. Unfortunately, new and alarming information complied by the NYS Department of Environmental Conservation (DEC) documents 117 active pesticides found in our water supply. While that might sound like too much to even get a handle on, there are 2 main culprits whose elimination would bode very well for us. The DEC needs to immediately ban the worst two toxic offenders—metalaxyl and imidacloprid—from use on Long Island.
Imidacloprid was recently released from its patent and can be found in hundreds of products used to control insects on lawns, turf, golf courses, gardens, farms, pets, ornamental plantings, and in households. It is a known neurotoxin and can cause damage to the nervous system. Imidacloprid has also been linked to the significant decline in honeybee populations, known as Colony Collapse Disorder. As a result, it was recently banned in the European Union. It is also toxic to fish and crustaceans. According to the DEC, from 2001 to 2010, imidacloprid was detected 890 times at 179 locations in Long Island's groundwater. The chemical has been found in concentrations as high as 407 ppb—far in excess of the 50 ppb drinking water standard.
Metalaxyl is a fungicide that readily leaches in sandy soils and is highly soluble in water; these properties, in combination with its long persistence, pose a substantial threat of contamination to our groundwater. Metalaxyl is EPA Acute Toxicity Class II (moderately toxic). It is linked to kidney and liver damage and is toxic to birds. According to the DEC, there have been 1,327 detections of metalaxyl at 546 locations in Long Island's groundwater.
These numbers offend reason. For our families, for our future, for the protection of our natural world, we must speak loudly and demand a full and permanent ban of these poisons.
ACTION ALERT:
Submit a comment to the DEC via email (clickable here): LongIslandStrategy@gw.dec.state.ny.us.
Urge the DEC to:
Ban the use of the two most prevalent pesticides detected in Long Island's groundwater—metalaxyl and imidacloprid!
Identify and assess safer alternatives to toxic pesticides found in Long Island groundwater.
---
Plans to Pave Putnam Trail Stir Debate
By Guy Jacob
There are always two (or more) sides to every story, and the plan to pave the Putnam Trail is no exception. Its story is similar to the story behind the pavement of many other trails. The Putnam Trail runs for 1.5 miles through Van Cortlandt Park, which is the fourth largest New York City Park with 1,146 acres.
The New York City Parks Dept. has some valid reasons for wanting to pave it. Cyclists, people in wheelchairs, rollerbladers, skateboarders and families with strollers would be able to gain access to nature and participate in recreation that doesn't require the use of fossil fuels. Moreover, Putnam Trail connects to South County Trailway in Westchester and the North County Trailway as it heads north, running all the way to Brewster, NY, in Putnam County. These trails stretch more than 34 miles, and exercising on them while communing with nature without spewing carbon dioxide in the atmosphere is a good thing.
On the other hand, the plan as it exists now would require the destruction of 400 trees in order to increase the width from 8 feet to 15 feet. Destroying and removing 1.5 acres of trees and natural brush to pave 10 feet of this new width with asphalt seems a bit excessive. Certainly, the North County Trailway is not nearly as wide. Moreover, folks who object to any paving over of the trail point to the need to remove themselves from the concrete jungle in which they are immersed every day of their lives.
Perhaps some kind of compromise could be found. Paving a narrower trail and planting native species on either side of it might satisfy people on both sides of the argument. What really matters is that citizens get involved in an issue that they care about and listen carefully to opposing points of view.
For more information and to get involved visit:
http://www.savetheputnamtrail.com/ and/or http://vancortlandt.org/
---
Plum Island Threatened
By Guy Jacob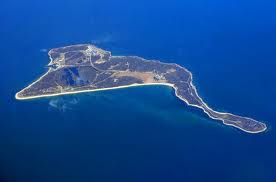 Just off the coast of Orient Point lies a federally owned island of national environmental and cultural significance. And it's up for sale. A large coalition of organizations is working to save it from the auction block. Below are comments I submitted to the federal government's General Services Administration on behalf of NHOC. Laura McMillan, Outreach Associate for Connecticut Fund for the Environment and its program Save the Sound, wrote an email to me about my comments; "Guy, these are wonderful. Our thanks to you and the rest of Nassau Hiking Club for taking the time to write such insightful comments, and for passing them along."
===============================
Dear Messrs. Dugan and Youngberg:
Thank you for the opportunity to comment on the Draft EIS. The General Services Administration is in a unique position to protect Plum Island. On behalf of our 550-member organization, I implore your agency to advocate for a conservation sale that would protect the critical undeveloped habitats. We support the transfer of all pristine and environmentally sensitive areas on Plum Island to the USFWS reserve system.
Because of its isolation, Plum Island is a harbor for wildlife, the diversity of which is well established and need not be repeated here. Protection from large populations of people is what has created this oasis, and protection is what is necessary to keep the island safe for wildlife. The diversity of life on Plum Island is rare because it's rare for an ecosystem to be exposed to such limited human impact. If its remoteness is lost, it will be paradise lost.
We don't need more condos for the rich and famous We need more preservation. The already-developed portion of the island could and should be sold for low-impact re-use, e.g., to a research program by a university, an environmental organization or a youth services organization. A piece of it could also be transferred to the National Park Service.
Protecting Plum Island will not only benefit life on the island. Keeping this island pristine will protect the greater Long Island Sound ecosystem. What is good for Plum Island is also good for the Long Island Sound.
The concept of an eco-camp/lodge is consistent with current trends and research in environmental /outdoor education and encouraging a relationship with the natural world is a critical service that governments provide. Richard Louv, author of Last Child in the Woods: Saving our Children from Nature-Deficit Disorder, makes points germane to Plum Island's future. According to Louv, research demonstrates that being immersed in natural settings benefits our mental and physical wellbeing. Plum Island evokes a sense of magic and can provide for an experience that finds no substitute. At a time when education is overly focused on the most up-to-date technology and vicarious learning, we desperately need governmental agencies to step up to the plate and offer opportunities for scout, school and civic groups to become more fluent in the natural sciences. The NPS and the FWS have long histories of partnering with public and private schools and organizations, and this is needed today even much more so than in the past. "Much of our learning comes from doing, from making, from feeling with our hands; and though many would like to believe otherwise, the world is not entirely available from a keyboard," Louv noted insightfully in his book.
Research clearly supports the kind of learning Louv advocates for. Consistent with earlier studies, in the late 1990s Stephen Kellert of Yale University found that learning in outdoor settings enhances emotional development for both regular education students and special needs children. According to Keller, "Some of the impacts include increased self-confidence, self-esteem, optimism, independence and autonomy."
Common sense and anecdotal evidence reveal that this is the kind of learning has great potential for engendering an environmental consciousness as well. Once you touch and learn about flora and fauna, you can relate to it more intimately. If you can name an organism and know something about its adaptations, you're more likely to realize a need to protect and conserve it. Human nature requires us to connect with other living things before we learn to care deeply about them. However, all too often young people have a far greater intimacy with their cell phone than they do with nature; our federal government can do much to change this sad fact. While Louv's book focuses on young people, the research he cites recognizes the benefits of outdoor education for people of all ages, and while an eco-camp/lodge should focus its services on preadolescents, teens and college students, it should also offer programs to families and adult groups.
The very fact that Plum Island's future is being debated it telling. If all Americans had the kind of consciousness Louv advocates for, there would be no debate. Plum Island's future would be sacrosanct. For the benefit of the public trust, please keep Plum Island in the public domain. Selling it off would be a tragic mistake.
Thank you for your thoughtful consideration. We look forward to hearing from you soon.
For more information, visit: www.preserveplumisland.org
ACTION ALERT: Send emails to Senators Gillibrand and Schumer. Ask them to protect Plum Island by transferring it to the US Fish & Wildlife Service.
---
New Fuel Standards Give Hope
By Guy Jacob
The Obama administration recently made cleaner cars a reality! The administration's new fuel efficiency and carbon-pollution standards mark the biggest action this country has ever taken to break our dependence on oil and reduce air pollution.
I applaud the Obama administration for finalizing these standards, which will slash air pollution and raise new vehicles' efficiency to an average of 54.5 mpg in 2025. In 2030, these standards, combined with standards the administration already set, will keep roughly 570 million metric tons of carbon pollution out of the air—nearly 10% of current US carbon emissions! These standards will also save consumers money at the pump—more than $8,000 for the owner of a new 2025 vehicle. They will also create jobs by driving innovation throughout the auto industry, allowing domestic automakers to compete and thrive in the global economy.
Obama's leadership in finalizing strong fuel efficiency and greenhouse-gas standards for new vehicles is remarkable. These standards mark a huge step forward in reducing our dependence on oil and cutting air pollution, which are vital steps for our future wellbeing.
Carbon is polluting our air and warming our climate. The climate is not being polluted; the climate is changing. Rather, the environment is being polluted. People often get the two confused, and even environmental organizations often use the term "climate pollution," which is a misnomer. The earth's climates are, in fact, changing. This is has happened many times in the earth's history. However, the recent anthropogenic events such as the burning of fossil fuels have accelerated the amount of carbon released into the atmosphere, thereby exacerbating the earth's natural greenhouse effect. This is global warming, which, in turn, has led to climate change on a scale that directly correlates to when humans really started releasing such environmental pollutants into the earth's ecosystems. The effects have been numerous as documented repeatedly in scientific studies, but that's tough for people to understand or accept because nothing catastrophic has yet transpired on a global scale. But the warning signs loom before us—record heat waves, melting glaciers and the opening of the Northwest Passage during summer months due to the melting of arctic waters are but a few.
While the Obama Administration has pointed us in the right direction, much more needs to be done to avert the worse-case scenarios. And only an informed citizenry will demand that our public officials step up to the plate and legislate even more significant carbon reductions.
---
About the film, "Gasland"
The largest nationwide natural gas drilling escalation in history is sweeping across our homeland. The Halliburton-developed drilling technology of "fracking" or hydraulic fracturing has unlocked a "Saudia Arabia of natural gas" just beneath us. But fracking's negative consequences are as far and wide as its intrusion throughout the American landscape.
When filmmaker Josh Fox is asked to lease his land for drilling, he embarks on a cross-country odyssey uncovering a trail of secrets, lies and contamination. A recently drilled nearby Pennsylvania town reports that residents are able to light their drinking water on fire! This is just one of the many bizarre and shocking revelations of a new country called Gasland.
Find this film at your local library, borrow it from Netflix or buy it on Amazon.com.
---
We're Not Fracked Yet
By Guy Jacob
If hydro-fracking sounds like a video game, maybe it's because it's meant to sound benign. But it's far from harmless. Hydro-fracking is short for hydraulic fracturing, a process that allows for the extraction of natural gas from shale formations deep below the earth's surface. A company will usually drill a very deep hole, anywhere between 5,000 to 20,000 feet. They then pump millions of gallons of fluid into the rock formation itself, creating great pressure, which ultimately fractures the rock and releases the trapped gas.
New York has large bedrock formations known as the Marcellus and Utica Shales. If these areas are opened to hydro-fracking, it would result in thousands of new jobs in areas that truly need them. It would also produce a huge economic windfall for our state. But at what price?
There are serious concerns about the safety and environmental impact of the process, and a number of environmental organizations are speaking out about them. The most egregious relates to the liquid slurry that is pumped into the ground. It is a mixture of chemicals that could penetrate the underground water supplies of nearby communities, as well as the New York City and Syracuse watersheds. There are also questions as to how the chemical waste would be stored and transported, which highlights the hazard of significant ecological damage.
Significantly, there have been instances in other states where some of these problems have already surfaced, making the threat tangible and credible. The EPA has finally commissioned a national study of the environmental and public health effects of hydro-fracking. But this will take time; in the short term, New Yorkers need to respond to these concerns as the NYS DEC begins public hearings in the coming month.
More and more elected officials are speaking out as well. State Senator Jack Martins (R- Garden City) recently wrote, "We should hold off on hydro-fracking, at least until we are certain that concerns have been addressed. We should not let a rush for potential financial stability cloud our judgment or override the safety of our residents. Simply put, relatively short-term economic benefit cannot be permitted to trump long term ecological concerns. We have an intergenerational responsibility to our children to ensure that decisions we make do not negatively impact the environment, especially when it involves the viability of our drinking water. When these concerns are properly addressed, then sure, we can certainly use the jobs and economic benefit that hydro-fracking provides. But until then, the gas is going nowhere."
If you read my fracking article... [see below] and were considering writing an email, now is the time to do it. You have until December 12, 2011 to submit comments, but please do it as soon as you have a spare minute. Your comments need not be long. Neither must they include technical information. Just tell the DEC that you're concerned and you don't want fracking plans to move forward because you don't want our ground water polluted. If we want to avoid being "fracked" many more of us must speak out.
Visit www.dec.ny.gov/energy/75370.html to learn more.
Submit comments at www.dec.ny.gov/energy/76838.html
---
What is Fracking?
By Guy Jacob
The buzz over "fracking" has found its way into the news over the past few months. A relatively new term for most of the public, it has already made its way into our dictionaries. Currently, commercials by Exxon Mobil display fracking protest posters even as this multinational corporation tries to ease public worries. But what is fracking? Fracking is short for hydraulic fracturing, a process in which fractures in rocks below the earth's surface are opened and widened by injecting chemicals and liquids at high pressure; it is used especially to extract natural gas or oil. "Fracking" involves injecting toxic chemicals, sand, and millions of gallons of water under high pressure directly into shale formations. This toxic brew, along with any natural gas, is then extracted, or leaked to the surface.
On September 7, 2011 the NYS Department of Environmental Conservation (DEC) released over 1,000 pages of its assessment of natural gas extraction using hydraulic fracturing. This revised draft, Supplemental Generic Environmental Impact Statement (SGEIS) will affect nearly 85% of the areas overlying the Marcellus Shale. The Marcellus starts at the base of the Catskills in upstate New York, stretches across upstate toward Marcellus, New York (the town from which the formation is named) and southwest to West Virginia, Kentucky, and Ohio. The millions of New Yorkers whose daily lives will be impacted by increased truck traffic, increased industrial activity, and spills or accidents need the time to fully understand and weigh in on the state's proposed plan. Still missing are comprehensive discussions of the cumulative environmental and public health impacts likely to result if DEC allows fracking to move forward in New York. Moreover, the DEC acknowledges that they don't have the staff to adequately police the activities of the industry, and worse yet, the agency seeks to issue permits before having full regulations in place.
Inherent Risks of Hydro-Fracking:
Hydro-fracking activities operate 24 hours a day, 7 days a week during production. Volumes of toxic, radioactive, and caustic liquid waste by-products pose storage, treatment, and disposal problems. Regular operations, as well as accidents can adversely impact the environment and public health. Especially problematic is the lack of federal protection for drinking water, air quality, water treatment infrastructure, and landowner liability.
Communities from Texas to Pennsylvania have already been impacted from industrial hydro-fracking operations. A peer reviewed study published in the National Academy of Science found water wells near gas wells had 17 times higher methane levels. Families in Dimock, PA live with drinking water contaminated with methane and heavy metals. Blowouts from gas wells have spewed liquid fracking waste into the air and into local streams.
Primary concerns include human and environmental exposure to:
Radioactivity that is a physical characteristic of Marcellus shale.
The hazardous cocktail of hydro-fracking chemicals injected into the ground.
Air pollution from diesel engines, compressor stations, and flaring.
Brine that is 5 times saltier than seawater that can damage freshwater streams and lakes, as well as corrode infrastructure.
Hazardous liquid and solid waste that is stored on-site, transported on public roads, and disposed of at municipal landfills or sewage treatment plants.
DEC proposes that the public get only 60 days to read, make sense of, and share their concerns about how fracking could be conducted in New York State. The 60-day period proposed by DEC is entirely inadequate. The agency provided 90 days on the last draft, and this version is even more comprehensive. Also missing is the opportunity for public hearings across the state. During the comment period on the first Draft Supplemental Generic Environmental Impact Statement (dSGEIS), DEC held hearings in Binghamton, Sullivan County, New York City, and Delaware County. At a minimum, DEC should return to those areas for hearings on the revised dSGEIS. New Yorkers have the right to hold the gas industry accountable and help ensure our water and communities are protected.
Act now! Urge our State government to:
1. Extend the public comment period to 180 days, and let them know that the extension is needed because of public concerns about the safety of hydrofracking
2. Schedule public hearings across the state so that all New Yorkers have a chance to weigh in.
Governor Cuomo: (518) 474-8390
E-mail the governor at: Governor.Cuomo@ny.gov
DEC Commissioner Martens: (518) 402-8545
E-mail the DEC Commissioner at: www.dec.ny.gov/about/407.html
---
Eating Seafood
By Guy Jacob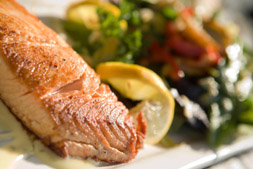 Which Fish choices are good for you and our oceans, bays, rivers and lakes? Your choices as a consumer impact your personal health as well as the health of our planet. Consumers drive the economic engine of the seafood industry, and, in so doing, impact the sustainability of a variety of marine species.
An excellent source of omega-3 fatty acids, which are crucial to heart health and brain function, six ounces of seafood also provides about 40 grams of protein. Some fish carry high levels of mercury and pcbs, so it's important to be aware of your fish choices.
Visit www.edf.org/seafood for a chart of seafood choices. This chart lists eco-best, eco-ok and eco-worst choices for a particular species. It tells you the best and worst geographic locations for the source of your seafood, so it's helpful to know where your fish comes from. If you click on a particular species, you can find detailed nutritional information, risk factors, recipes, commercial sources, capture methods and facts about the fish. You can also download a Seafood Selector Guide at: www.edf.org/documents/1980_pocket_seafood_selector.pdf
For shellfish lovers, oysters are high in selenium and lower in cholesterol than other shellfish. Locally, after a decade of being off limits, Hempstead Harbor is now open for commercial and recreational digging for oysters and clams. This environmental success story is due largely to the efforts of the Hempstead Harbor Protection Committee, a coalition of municipalities and organizations.
Greenpeace (www.greenpeace.org) offers a Supermarket Seafood Sustainability Scorecard. They ranked 20 supermarket chains. Safeway and Target have the best scores, while Winn-Dixie and Meijer score the poorest.
Earthjustice (www.earthjustice.org) lists the Atlantic bluefin tuna and flounder as two of the most endangered fish. The Environmental Defense Fund (www.edf.org) recommends eating albacore tuna from the US or Canada as an ecofriendly alternative to Bluefins. EDF does not recommend eating flounder. They recommend rainbow trout and tilapia from the US as ecofriendly alternatives.
If you go to www.montereybayaquarium.org/cr/seafoodwatch, you can download a Seafood Watch Pocket Guide. This guide lists best choices that are abundant, well-managed and caught or farmed in environmentally friendly ways. It also tells you which fish to avoid because they are overfished or caught or farmed in ways that harm other marine life or the environment. Among other species, they recommend completely avoiding all species of sharks and skates as well as orange roughy.
As long as there is a market for an animal product, the demand will drive the catch. Laws will be broken, remain unenforced and outright rescinded in order to keep up with demand. It's the decisions we make as consumers that are often the most critically important ones that can make all the difference in determining the fate of a species' future.
---
Stop the Dumping in Reynolds Channel
By Guy Jacob
Because of an ongoing petition campaign, Nassau County Executive Ed Mangano made the illegal dumping emanating from the Bay Park Sewer Treatment Plant a priority. Signatures helped tell our elected officials to stop the illegal dumping into Reynolds Channel. And it did stop.
With a solid plan, financial resources, and a new team of dedicated commissioners and workers, ongoing repairs have been made and the plant has been discharging in legal limits since January. Much more needs to be done, and a time line of repairs is in place. Sludge Stoppers Task Force, the organization spearheading the campaign, will continue to make sure the plant is in compliance.
We need your help again to sign another petition. We have the right to know when we are fishing and swimming in raw sewage. Please go to this petitions link www.ipetitions.com/petition/righttoknow. Sign and tell all our Legislators to sign this Bill into law. If high levels of Sewage were to be dumped again, there is no protocol for notifying the public. A group of concerned citizens, environmentalists and civic leaders formed the Sludge Stoppers Task Force to address this problem of Sewage spills and lack of public notification.
Nassau County Legislator Dave Denenberg introduced the "Nassau County Right to Know of a Sewage Spill Bill." This Bill is in committee and we need to tell our Legislators that "we have a right to know." This Bill simply requires the Department of Public Works to report a discharge over the legal limits to the Board of Health and the Board of Health to notify the public. After you sign the petition, please take the next step. Call your Nassau County legislator, and tell him or her that you support this legislation.
---
Environmental Resources
By Guy Jacob
Websites are excellent resources for becoming more aware of and knowledgeable about environmental issues. Explore the Pew Environment Group's new home on the web: www.PewEnvironment.org for up-to-date and timely information. Taking action to help reduce the scope and severity of the world's most pressing environmental problems is how one manifests his or her environmental consciousness. This website makes advocacy efforts easier and is a valuable asset in addressing the challenges facing the Earth's future. Get updates about action alerts, petitions and campaigns that mean the most to you. Take action and find out about upcoming events. Learn about areas of focus and what the Pew Environmental Group is doing to make a difference.
There is no shortage of websites and organizations that offer online advocacy opportunities, and I will share others with you in future issues. Thank you for doing your part to protect some of our nation's and the world's most vital and spectacular natural systems.
---
Contacting Public Officials
By Guy Jacob
Communicating with public officials, be they elected or appointed, is a basic responsibility of citizenship in a democratic society. This may sound cliché, but all one need do is reflect upon the recent uprisings in Tunisia and Egypt to realize that democracy is no guarantee, and life without it often becomes intolerable. Indifference to governmental decisions is tantamount to the loss of public power. We all ought to be making our voices heard when environmental and other issues important to us are front and center. But what's the best way to go about it?
The easiest and quickest means of communication isn't always the best. Organizations often ask their members to call the offices of officials because they believe folks are more likely to call than write, but this is often the least effective method. Calling works best when an office is inundated with phone calls about one particular issue or bill. However, the person answering the phone is most assuredly the staffer who is the lowest on the totem pole; he or she might even be an intern. If he or she declines to take your name and address, it is less likely that your message will even be recorded; you will not receive a response, and you will not know the position of your representative regarding the issue about which you have called. Even if your name and address are taken over the phone, you still have no way of knowing whether or not your opinion is counted, unless you receive a written response, which is unlikely.
If you do call, follow up with a letter or an email. Writing is much more effective than calling and significantly increases your chances of receiving a response. Sending an email is often the best method of communication: you know for sure that your message was received as soon as you click send because you will see a "Thank you. Message sent" note; you often receive an auto-reply within hours, and you're likely to receive a detailed written response much more quickly than you would if you mail a letter. Besides saving the paper and the stamp, an email allows you to get your thoughts out quickly, and if it's a time-sensitive issue, that becomes all the more important. Bills are often voted on in a matter of days after you find out about it, and in this situation you will not have time to send a letter in the snail mail.
Various officials have different requirements for your contact information when you send an email. Some require your phone number, but your contact information will not be given out. It is unlikely that you will receive a phone call anyway. For all the emails I have sent, I rarely receive a phone call from a staffer, but I welcome it when it does happen. Send an email by going to your representative's official government website. For example, Senator Gillibrand's website will have a link that states "Contact the Senator." Click on it and fill in your contact information. Write your message succinctly and click "send." Email messages need not and should not be long-winded. After all, it's your position on an issue that gets counted, not all the reasons why you feel the way you do. Some websites are a little more complicated to navigate. When sending an email to Senator Schumer, click on "Contact Chuck." Then click on "Send Chuck an email." Scroll down to the bottom of the page where it says "Please choose an option from the menu below." Then click on "Send the Senator an email."
Writing a letter can be effective, but letters can and do get lost in busy offices. Staffers more quickly get emails sent out than they can stuff envelopes. When offices deal with thousands of constituents, it's easy to understand why you're more likely to get a response via email. If you don't have access to the Internet or you're representing an organization and writing on letterhead, then by all means drop it in mailbox.
And if you don't receive a response to either your letter or your email, be tenacious. Call repeatedly and tell them you have a right to an answer. Receiving a written response gives you the gratification of knowing your voice was heard and helps you understand the official's take on the issue. It's your democracy. Don't settle anything less.
Egyptians and Tunisians are risking their lives for a chance to gain democracy. Some have paid the ultimate price for freedom, just as our own forebears did. A somber duty, providing our own government with our peaceful, persistent voices today is our gratitude to our ancestors and our gift to posterity.
---
How Green is Your Footprint?
By Guy Jacob
Green. Greener. Greenest. Green compared to what? Greener than what? Or is it merely green washing? These questions are often hard to answer, but if we follow the trail of a plastic water bottle, we can gain a better understanding.
If someone carelessly discards this bottle onto a street, it will likely make its way to a storm drain if it isn't tossed down one to begin with. Storm drains empty into bodies of water, so what starts off as unsightly litter ends up as marine pollution.
What would you do instead of what he or she did, and how green would your action be? Discarding the bottle in the nearest wastebasket is a green act, but greener yet would be to deposit the bottle into a recycling bin. Even greener behavior: don't buy the water in the first place; save money and spare yourself leaching chemicals from the plastic bottle by purchasing a reusable metal water bottle, fill it with tap water and take it home again. But the greenest act would be never to use any water at all.
And that's the point. It's all relative, and our very existence on planet Earth makes it virtually impossible to live the greenest lifestyle because to live is to use natural resources. The best we can strive for is to be greener than we've been, but that's very doable.
Any product that one purchases and any packaging that comes along with it require energy for their production, and this energy largely requires the burning of fossil fuels. Any paper or plastic, recycled or virgin, requires some degree of energy in its manufacture.
Subsequently, incinerating the waste from products and packaging adds pollutants to the atmosphere. Recycling is much preferred over incineration, but it also requires energy and further adds to our carbon footprint.
Consequently, the greenest agenda within reason is the one that altogether eliminates the product and the packaging whenever possible. That being said, we humans are not about to return to the wild anytime soon, so we'll never fully eliminate our carbon footprint, that is until we utilize only clean energy resources. Nevertheless, even if we fully eliminated the use of fossil fuels, we'd still have to use other natural resources.
Yet, there's a lot we can do to minimize our impact, model good stewardship and live up to our personal financial responsibilities. It's all a matter of using less and using what do use judiciously.
---
The Virtues of Composting
By Guy Jacob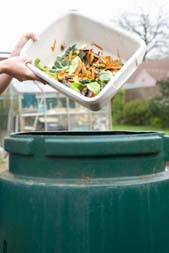 Composting reduces waste, saves money, provides for exercise and enriches gardens and lawns without the use of toxic fertilizers. It transforms garbage into rich, nourishing earth, even as you witness the process over the seasons. The experience affords an intimate connection between you and your land.
Composting removes mostly plant material from the waste stream. Meat, dairy and meat by products should never be added to a compost pile as they develop harmful bacteria and putrid, rotting smells. Coffee grinds, fruit peels and the inedible parts of any fruit or vegetable are good sources of compost. Human and animal hair, leaves, grass clippings, newspaper (in small amounts), lint from your dryer and the contents of vacuum cleaner bags can be added as well. I even add biodegradable peanuts, which are green starch packaging peanuts that dissolve with a little water; conscientious companies are using them to replace harmful Styrofoam peanuts. Shells from eggs and shellfish add calcium and heat even as they aerate the bin, but they will be removed when you clean up your compost. In truth, anything other than meat, dairy or toxic chemicals is fodder for the bin.
You can just create a hill of compost in the corner of your yard, but a bin allows for neater, cleaner composting and expedites the decomposition process. I started out with one compost bin, and now I have three. I've never once noticed pungent smells emanating from the bins. Commercially purchased plastic bins are convenient and easy to assemble; you just need to plan where to best place one on your property. It should be in an out of the way place where you will have space to harvest your compost. Harvesting requires the use of a wire mesh that sifts out unwanted debris, such as plastic, stones and pieces of glass. Even though I try to carefully remove unwanted inorganic matter before I add anything to the bin, it is still necessary to clean up the compost with the wire mesh. Once I even removed a fork from the mesh!
When you first establish your compost bin, add earth worms to the mix because they love to eat your garbage! Every couple of weeks (except for when there are frigid temperatures), add a couple of gallons of water and turn over your compost with a shovel in order to aid the decaying process. Bins contain rap doors on the bottom for harvesting. When your compost is ready, clean it with a wire mesh; I keep cardboard on the ground to catch the clean compost and then store it in garbage pails I use solely for compost.
Spread a thin layer over your lawn in the spring and fall and rake it around. Add compost to your vegetable and flower gardens and under and around bushes. Your soil will be enriched and manifest its health in rich, colorful plants that, in turn, will invite beautiful butterflies, beneficial insects and a host of birds.
To find out more about composting, visit the following websites:
www.eartheasy.com/grow_compost.html
www.compostinstructions.com
www.howtocompost.org
---
Fisheries in Peril
By Guy Jacob
Landlubbers and sailors alike are stakeholders of our seas, rivers and lakes. No one ecosystem is an island, and any one ecosystem has the potential to affect another, however unrelated the two might seem. Much like our individual human bodies, our planet is merely one body with varied, interconnected body systems. Our globe is seventy percent water, and its diverse fisheries have been severely, negatively impacted by human consumption and abuse. But the latest research is clear: as individuals, as groups and as nations, we can turn the table and reverse the impacts that we have caused.
What can we do as individual consumers who purchase seafood? The Blue Ocean Institute (www.blueocean.org) has compiled a 2009 Guide to Ocean Friendly Seafood. This extensive guide discusses the current status of dozens of species. US-Farm raised Barramundi and Tilapia are among the most eco friendly fish you can consume; raised in closed aquaculture systems, these species have low environmental impact. The abundant rebounding of Striped Bass populations due to effective fisheries management is a notable success story, but these fish contain levels of mercury or PCB's that may pose a human health risk; to find out more about chemical levels in fish, please refer to the Environmental Defense Fund's website (www.edf.org/seafood). Pacific Cod, Pacific Halibut and Black Cod all have sustainable numbers are certified by the Marine Stewardship Council (www.msc.org).
The Blue Ocean Institute's color-coded guide also advises consumers to stay away from Atlantic Bluefin Tuna, Atlantic Cod, Atlantic Halibut, Chilean Sea Bass, Groupers, Orange Roughy, sharks and imported shrimp among others. All these species have severely depleted population numbers, which also negatively impacts other species, and their consumption poses a human health risk due to high levels of mercury and PCP's in the flesh of these animals. As educated citizens, we can also lobby our public officials about the importance of national and international actions to bring our fisheries back from the brink. Greenpeace (www.greenpeace.org) and other organizations have initiated a letter-writing campaign to Secretary Clinton regarding pirate fishing fleets that are marauding global fish stocks and robbing poor African nations of desperately needed resources. What's worse, much of this pirate booty is ending up in US grocery stores!
So what happens half way around the world and the economic and environmental fallout of these illegal and unsustainable fishing practices is exacerbated by what we purchase in our own neighborhoods.
Now with the appropriate tools in hand, next time you plan on preparing or purchasing a fish dinner, think about how your choice affects your own body, your family and others around the world as well as the health of our planet today and for future generations to come.
ACTION ALERT: Write Secretary of State Hillary Clinton at the U.S. Department of State, 2201 C Street NW Washington, DC 20520. Ask her to take measures to fight pirate fishing by speaking out at international forums including the United Nations and fishery management organizations.
---
Search the Net
By Guy Jacob
The Internet provides a wealth of paperless environmental information right at your fingertips. Even if you don't have access at home, you can surf the Internet at your public library. And your librarians can be quite helpful in getting you acquainted with their computer services.
A variety of websites emphasize different environmental subjects.
One need not be employed in the field in or do volunteer conservation work to become well informed about important issues. All you really need is a desire to learn and get involved, whether it be at home, on the job or through an organization.
---
No Dumping. Drains to Bay.
By Guy Jacob
"No dumping. Drains to Bay." It's a concise, germane message with huge potential for affecting behavioral change. It's the kind of message that could fit nicely onto a 140-character Twitter page.
Become part of the solution. Glue this message unto curbs above the storm drains throughout your neighborhood. Municipalities all around Long Island provide durable, colorfully-inscribed plastic medallions and special glue to organizations and individuals who wish to participate in this project. All you need is a wire brush to remove grit before gluing down the medallion.
Storm drains are covered by metal grids and can be found on residential streets and highways throughout Long Island. These drains connect to a network of underground pipes that empty directly into bays or into estuaries, ponds, lakes and rivers that make their way into bays, the Long Island Sound and the Atlantic Ocean.
Uncommon in third world countries, Storm drains are critically important because they minimize the potential for flooding and the possibility for disease carrying agents that thrive in still water. These drains are symbols of wealth and health, but, because we abuse them, we've created conduits for polluted waterways.
Commonly and erroneously called "sewers," the contents of these storm drains receive no treatment prior to making their way into bodies of water on and around Long Island. When you flush your toilet, or run your sink faucet, your bath tub, or your shower, this water empties into an underground system of pipes called a sewer system that makes its way to facilities where it is filtered and chemically treated before it is released into bays. Without sewer systems, also uncommon in poorer nations, we would be plagued by raw sewage fouling our waterways. And while this treatment doesn't completely eliminate all pollutants, it goes a long way toward keeping our water clean. There is no above-ground access to Long Island's sewer system. Storm drains, on the other hand, because of their purpose are always accessible on ground level. Storm drains are not connected to sewer pipes, and whatever they carry makes its way untouched to waterways we swim in, boat in and admire from ashore.
Storm drains are for rain water, period. Yet people dump paint, used oil and a host of other chemical solvents through these grids. While such dumping is illegal and punishable by fines, legal applications of fertilizers, pesticides and herbicides migrate onto driveways and sidewalks, down streets and into storm drains as well. Moreover, dog feces, within and without plastic bags, litter of all sorts, in effect, anything that wind and water runoff can carry, make their way down storm drains, and, ultimately, into our waterways where they pollute and sicken marine life, other wildlife, pets and people.
The land and the sea are inseparable, merely different habitats on one globe. While the shore is the best known place where land meets sea, storm drains are important bridges to our marine ecosystems.
This is why it is so vital that as hikers, motorists, cyclists and pedestrians we never ever litter or carelessly discard toxic substances. More than just unsightly, as disturbing as that is, litter directly and negatively impacts the quality of our marine habitats. What we carelessly do on land hurts much more than landscapes. And when you pick up and remove litter, you benefit much more than just the land. So carry an extra plastic bag next time you're out and about, just in case the opportunity arises to do good deeds, as it most assuredly will.
And help others become more conscious of their actions. Participate in a storm drain medallion project. It's a perfect opportunity for a civic organization, a scout group, neighborhood friends or individual families to develop their environmental consciousness even as they help do others to do likewise.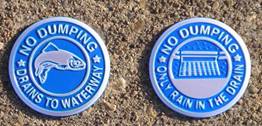 ACTION ALERT: If you live within the Town of Hempstead or within any village inside the town, contact Jim Browne at the Department of Conservation and Waterways at 516-431-9200 to receive your storm drain packet.
If you live in another municipality, call its department of environment/conservation and inquire.
Also check out this link.
---
Duck Stamps Rock
By Guy Jacob
Have you ever imagined walking into a US Post Office and doing something really special for the environment? Well you can. Buy Duck Stamps.
Since 1934, Duck Stamp funds have been buying up critical wetland habitats. In fact, a majority of our nation's 400 National Wildlife Refuges, which are dispersed throughout the US, were purchased in part or in whole by Duck Stamp revenues.
Much more than just protect waterfowl, the Duck Stamp program benefits a diverse array of wildlife. One third of all endangered and threatened species call wetlands their home. Protecting wetland ecosystems profits all the flora and fauna that make up the habitat.
What's more, wetland preservation has a direct, positive impact on humans. Wetlands are vital to both healthy coasts and resourceful oceans. Their grasses serve as breeding grounds for economically important species of juvenile fish. Acting like sponges, they provide natural flood control. Studies by the US FWS show that an acre of wetland can store more than 1.5 million gallons of floodwater. A study
by the Illinois State Water Survey found that destroying just 1% of a watershed's wetlands increases total flood in the watershed volume by almost 7%.
Wetlands intercept chemical laden runoff, then remove and retain its nutrients. They process organic waste and reduce sediments before the runoff reaches our open waters. They control erosion, then filter and recharge our groundwater. Wetlands are second in overall productivity only to tropical rain forests and coral reefs.
Wetland preservation is one of the most important environmental issues of our day. And as always, when you conserve nature, you directly benefit people as well. Conservation is one of the most commonsense, selfish endeavors humans can undertake.
A great success story, Duck stamps have already saved 3.5 million acres of wetlands. But in the face of growing development pressure, about 458,000 acres continue to vanish annually. Time is of the essence, and we've much more self-serving work to be done. Buy a colorful Duck Stamp today.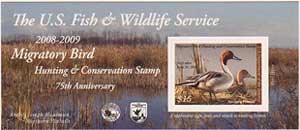 ACTION ALERT: Collectors' item Duck Stamps cost $15.00 and can be purchased at major post offices. Officially known as The US Fish & Wildlife Service Migratory Bird Hunting & Conservation Stamp, the 75th Anniversary 2008-2009 stamp features northern pintails in a colorful marsh setting.
---
Outdoor Lighting Options
By Guy Jacob
There is a way to reduce your energy consumption with outdoor lighting. While it's true that compact fluorescent bulbs don't make a perfect outdoor replacement for incandescent bulbs, you can actually meet your outdoor lighting needs without affecting your electric meter. Let the sun do the work for you with solar-powered outdoor lighting. Solar outdoor lighting is easy to install, requires little maintenance, and reduces your electricity bills.
Solar lighting works by charging the batteries during the day. The brighter the day, the better the charge, but even if the sun is not out, there is still some charging.
This past summer, I installed solar lighting in my front and back yards and have been quite pleased with both the aesthetic and the practical results. Solar lights give off a subtle nighttime glow that is quite sufficient to light up your walkway and accent your garden during the evening. The ones I purchased have a round appearance, like a flying saucer, that adds to their character, and the best part is that they run all night long without my ever having to turn on the switch and remember to turn it off-there is no switch!
Now that autumn's bright colors are inundating our senses, you might not be thinking about summer nights in your backyard garden. But now could be a good time to get some great summer clearance sales. Check out the ones for exterior solar lighting.
---