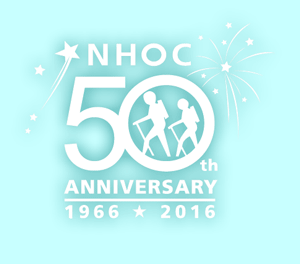 Based on Long Island, NY, the Nassau Hiking and Outdoor Club, Inc. (NHOC) is an organization of over 400 members from every walk of life, who share a common appreciation of the outdoors.
There's something for everyone at NHOC. Aside from hiking, the club is involved with many activities including camping, walking, horseback riding, bicycling, picnicking, and just about anything which broadens knowledge of and respect for nature. Some members participate in trail maintenance and other conservation efforts. During the winter months, indoor as well as outdoor activities are offered.
All hikes and activities are graded on their level of difficulty - from easy ("C") to challenging ("A").
Please read our HIKER GUIDELINES before considering any hike or activity.
Membership meetings are held year-round. (See Meetings page for info.) All are welcome to attend. All members get regular e-mail updates on short-notice hikes and events or cancellations.

Come join us at one of our meetings or hikes. You'll meet interesting people and have a great time exploring the many parks, trails, preserves, and historic places surrounding us.